Diaries
High-quality and stylish diaries and notebooks with a sophisticated calendar will help you plan your duties and still leave plenty of time for family, friends or your hobbies. Diaries and notebooks have great advertising potential and are therefore a suit
Write us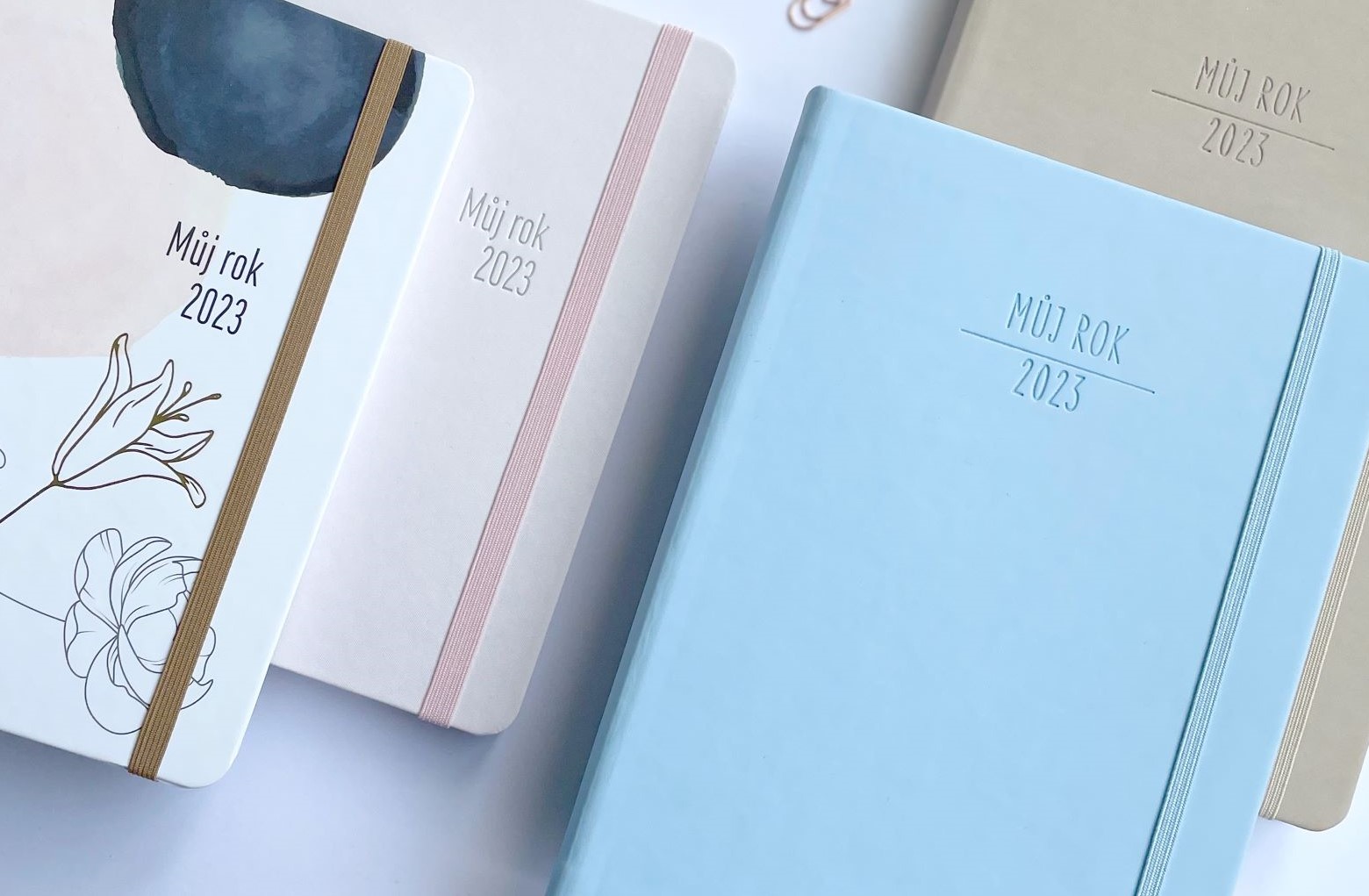 Quantity
You can choose from a collection of our own diaries. You can buy from 1 piece in our Gnotes e-shop. However, we specialize in larger orders and custom production.
If you want personalized diary with your own logo or special requirements, we can produce it from 300 pieces.
Format
We produce standard formats in A4, A5, B5, B6, pocket size (90 × 150 mm) and President size (210 × 260 mm).
If you do not choose from the standard sizes, you can choose your own. The minimum format is 70 × 100 × 2 mm and the maximum is 305 × 370 × 30 mm or 280 × 375 × 80 mm.
Paper
We cooperate with all major Czech and foreign paper suppliers such as Papyrus Bohemia s.r.o, Sappi, Salzer Papier GmbH, Igepa CZ, Igepa Deutschland,  Igepa Group, Antalis, Artic Paper, Fedrigoni Cartiere, Lecta Group, Mondi. We are therefore able to provide papers of different weights, finishes, volumes, etc. for your book.
Print
Depending on the book's print run, offset flat or rotary printing.
Flat printing: ten-colour machine, eight-colour machine, five-colour machine, two-colour machine
Digital printing: HP PageWide Web Press T250 HD
Order price
We always calculate the price individually based on the specifications. We always look for the optimal solution for your budget. You can expect a price quotation from us within approx. 48 hours of clarification of specifications.
Our services
We design and manufacture all diaries or notebooks ourselves.
We set the trends, in more than ten years of our Graspo publishing department we have introduced dozens of new designs. We always come up with creative designs that are not yet on the market.
We pay attention to details.
The calendar of our diaries is designed to enable the most efficient planning.
We offer a wide range of products.
You didn't find what were you looking for?
Our goal is to fulfill all your wishes. Contact us and together we will figure out how to realize your ideas.